Why Use Elevare Ivory Light Therapy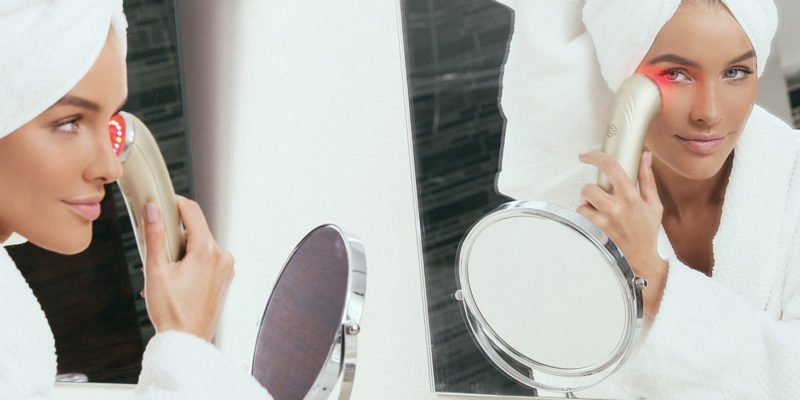 Elevare Skin was founded with one principle in mind: to develop and deliver the safest and most effective anti-aging solution to consumers across the globe. Elevare Skin is proud to be a prolific leader in the aesthetic devices market. Elevare Skin is committed to producing the most effective systems of LED and light therapy for skin rejuvenation and healing. Backed by clinical studies and sophisticated technology, the innovative science behind the various technologies is supported by many leading board-certified dermatologists and plastic surgeons across the globe.
Elevare Skin is a groundbreaking skin rejuvenation system for facial tissue, designed to significantly reduce the visual effects of age. Backed by clinical studies, as well as research originally conducted by NASA, Elevare's innovative FDA cleared systems, deliver long-term results and sometimes even instant results, without any side effects or downtime.
Medical-Grade Technology:
Red & Infrared Light Therapy
Blue Light Therapy
LED Technology
Topical Heat
Low-Level Laser
KEY BENEFITS
How it Works
The Ivory device uses a unique combination of topical heat (in a range of 40-42 C, or 104-107 F) and blue light to combat skin imperfections, reaching 415 nanometers under the skin, all the way to the hypodermis. Together, these effects increase blood flow and eliminate the dirt, dead skin cells, and bacteria trapped under the skin. This reduces redness and inflammation, minimizing pores, and healing the sebaceous (oil) glands. The result is a refreshed complexion, that both looks and feels healthier – all without any of the side effects that can be caused by topical medications.
Leading Technology: The Ivory
FDA CLEARED CLASS II MEDICAL DEVICE

As one of the only facial rejuvenation tools cleared by the FDA as a medical device, you can use Elevare products with the assurance that the treatment will be safe and effective, without harmful side effects.

BACKED BY CLINICAL STUDIES

In a two-month clinical trial by Princeton researchers, 100% of participants agreed that their skin looked younger, and that Elevare was the most effective anti-aging solution they had used.

DERMATOLOGIST RECOMMENDED

The Ivory is approved and recommended by certified dermatologists.

NO SIDE EFFECTS

The blue light therapy used by the Ivory is a non-invasive, non-chemical treatment, meaning you never have to worry about side effects.

RAPID RESULTS

With the power of the Ivory's dual-action technology, visible improvement to acne can be seen in as little as 14 days.

ADDITIONAL HEALING BENEFITS

In addition to combating blemishes on the skin, the Ivory's blue light can be used to clean and disinfect minor cuts and bruises.
For further information and to make an appointment please call:
Comprehensive Pain And Regenerative Center
Dorota M Gribbin, M.D.
609-588-0540
Toll free 1-844-866-4488
MONROE 369 Applegarth Road, Suite 4, Monroe Twp, NJ 08831
MERCERVILLE 2333 Whitehorse Suite 8, Mercerville Rd, Mercerville, NJ 08619