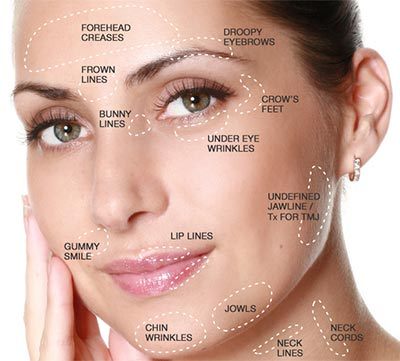 Dermal filler helps to diminish facial lines and restore volume and fullness in the face. As we age, our faces naturally lose subcutaneous fat. The facial muscles are then working closer to the skin surface, so smile lines and crow's feet become more apparent. The facial skin also stretches a bit, adding to this loss of facial volume. Injectable wrinkle fillers, unlike Botox injections that relax the muscle under a wrinkle, fill the line, crease, or area with one of several different substances. As a result, trouble spots nearly disappear.
What areas will filler help?
Nasolabial Folds The lines that run vertically between your nose and mouth, sometimes called nasolabial folds, can become more pronounced over time. And as these folds deepen, they can create unflattering shadows on your face that may make you look older.
Vertical Lines Above and Below Your Lips Time is working against your skin's appearance. Every time you speak, eat, kiss, or smile, your skin remembers. Lines eventually begin to show on your face.1 The vertical lines above and below your lips can be difficult to hide with makeup and are often highlighted when a bright shade of lipstick bleeds into them.
Downturned Corner Lines of Your Mouth Downturned lines at the corners of your mouth can make you look sad or angry. While these corner lines are a natural result of gravity taking its toll, that does not mean you have to live with them.
Pre-Jowl A little known area of the face that can make a big impact on the way we look is the pre-jowl area, or the pre-jowl sulcus, which is the area on either side of our chin. Facial volume loss associated with the aging process results in sagging of the skin in other facial areas. This leaves the pre-jowl area hollow.
Chin Wrinkles Over time, people may develop a horizontal line that appears across the chin in the shape of an upside-down smiley face. While etched-in lines like these are the natural result of repeated expressions we make or an active chin muscle, they can also subtly add years to your appearance.
Marionette Lines Even if you have never heard of marionette lines, you probably know what they are. These lines that run straight downwards from the corners of the mouth can make you look unhappy. Marionette lines form as facial volume begins to deplete and deeper creases begin to form below the mouth.
Around the Eyes The tear trough, also known as a nasojugal groove, extends from the inner corner of the eye, following a semicircular arc and transitioning to the palpebromalar groove. A deep tear trough can create a shadow that is perceived as a dark circle below the eye. It also creates a division between the lower eyelid and cheek that is an early sign of aging around the eyes. Patients with deep tear troughs often complain that they look more tired and older than they really are.
Check Area As you age, it is not just about lines and wrinkles. Your cheeks can lose volume and skin may begin to sag. Hyaluronic Acid (Juverderm, Belatero and others) are FDA approved injectables that instantly add volume to your cheek area to correct age-related volume loss in adults over the age of 21. It can provide you contour and a subtle lift for up to two years with optimal treatment.
Hollowness of Temples The temple is the region on each side of the face between the top of the cheekbone and start of the brow bone next to the eye. Sometimes a loss of volume in the temple region can create an unflattering shadow effect that can contribute to a dark, dreary appearance of the face and eyes. Most people do not look in the mirror and worry about their temples; however, increased volume in the temples can have a stunning effect on improving the youthful appearance of the face!
What type of filler should I select?
No need to make this decision on your own. We will consult with you before your treatment to determine your best plan.
Belotero is a hyaluronic acid that is designed to erase fine etched lines. Specifically, lines around your mouth (lip lines), crow's feet and any other fine lines. There is no downtime.
Juvederm this is the "next generation" smooth gel, that is a non-animal dermal filler. It provides for easier insertion with less discomfort and a more natural feel because the gel is so smooth. Juvederm Plus treats lines around the nose and mouth. While Juvederm UltraPlus treats deeper wrinkles and folds, lips, and the upper face. This 15-minute procedure is known to last for approximately 3 to 6 months with minimal side effects depending on the sensitivity of your skin.
Prolotherapy has been successfully treating patients with ligaments, tendons, and joints problems, now it is also used to improve aging face, neck, and hands! Prolotherapy is a nonsurgical treatment which stimulates collagen production and connective tissue strengthening. Short for "proliferation therapy," Prolotherapy is also known as nonsurgical connective tissue reconstruction, or regenerative injection therapy. Prolotherapy works by getting the body to use its own natural healing mechanisms to repair stretched and wrinkled skin and subcutaneous tissue of face, neck, and hands.
Contact Us Today by calling or choose from one of our 3 locations