What is Microneedling?
Microneedling is a skin care treatment that uses a hand-held device with super tiny needles. The needles make microscopic punctures in the skin that cause the body to increase collagen production for healing the "micro-injuries." This also fills out wrinkles, scars, fine lines, and other skin imperfections.
At Anti-Aging Esthetics NJ, Dr. Gribbin uses The PR Pen during microneedling skin treatments.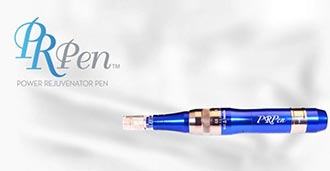 PR Pen Power Rejuvenator Pen
PR Pen (micro-needling) provides results, without surgery, with less downtime, at a fraction of the cost for patients wishing to remove signs of aging, rejuvenate skin tone, reduce scaring, and make other cosmetic repairs.
With this device we can visibly tighten the skin of the face, neck, décolleté and hands, for a more youthful appearance. The PR Pen is a safe option for patients. Each procedure is customized to the individual.
Most procedures will last less than one hour. You may begin to see some results before you leave the office. With progressive healing, results are typically achieved within six weeks.
Some patients will see optimal results with one treatment. Yearly follow-ups help keep the skin vibrant and refreshed. Others, especially older patients, may want to receive 2-3 treatments each year.
Benefits of Microneedling
Microneedling has been used for several years as a skin treatment to smooth the complexion. The PR Pen provides a treatment that is minimally invasive and is more advanced, offering the following benefits:
More targeted to specific areas
Less downtime
Less chance to injure surrounding skin tissue
Faster healing
Uses disposable needles to eliminate cross contamination
Minimal discomfort using topical anesthesia only
Adjustable needle depth
Faster treatment time
How Does Microneedling Work?
Traditionally, microneedling involves a device that makes microscopic holes in the skin. This causes the body to rush collagen to the area to begin healing, which in turn increases volume and smooths out skin imperfections.
Microneedling penetrates deeper into the layers of skin as the device is moved across the targeted areas. The holes are very microscopic and trigger the body's response of sending collagen and elastin to the area for healing. The major benefit is the delivery of high energy radiofrequency ultrasound to the dermal tissue resulting in skin tightening and wrinkle reduction. This is a revolutionary, state of the art treatment.
Microneedling treats the skin with multiple needles to pierce the surface layers of skin. The microneedling treatment causes the body to go into healing mode by boosting collagen production to heal the areas.