What is a Chemical Peel?
The skin accumulates dead cells over time. This may lead to blemishes, discolored skin, and other imperfections. Chemical peels work to remove these dead cells and enhance the skin's texture. They correct skin issues layer by layer. There are several types of peels to treat the skin some of which are stronger than others. It is necessary to have a member of our staff evaluate your skin and determine what type of peel is best for the skin.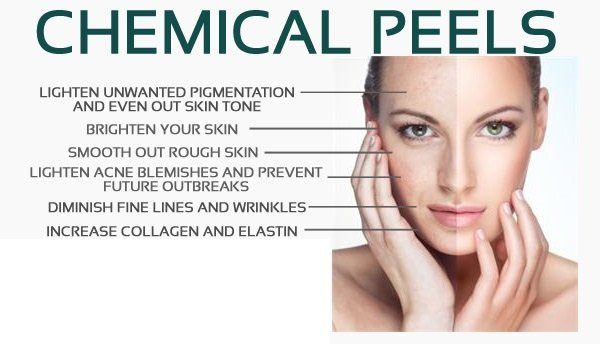 Benefits of Chemical Peel
The goal of chemical peels is to correct skin imperfections and improve the skin's quality. Chemical peels have been used to eradicate pre-cancerous cells as well. They also offer the following benefits:
Diminishes lines and wrinkles
Takes less time than other facial treatments
Reduces the appearance of sun damage and other age spots
Exfoliates the skin to reveal a smoother and more radiant complexion
Reduces the appearance of acne scars
Boosts collagen growth to increase the volume of the skin
How Does a Chemical Peel Work?
The solution used for the chemical peel is applied evenly to the targeted area with a brush and allowed to penetrate the skin. As this happens, the skin begins to lighten in color. When the process is complete, cold compresses are applied to the skin followed by a neutralizing solution. Chemical peels typically take between 30 and 90 minutes unless a deeper peel is performed which may take up to two hours to complete. With most peels, no sedation is necessary except for stronger peels. Patients can leave immediately following their appointment.